As part of the 10th edition of the Tournai Ramdam Festival taking place from 18 to 28 January 2020, Ramdam, "The unsettling film festival", organizes a competition of short films made with a pocket camera.
"Balance ton short"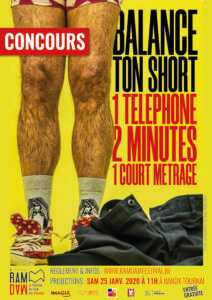 THE THEME ?
Make a movie of up to 2 minutes with your pocket camera by dealing with an unsettling subject in a completely free way. Funny, traumatic, creative, subversive, pointless or committed: it's up to you to choose the tone of the film, at the Tournai Ramdam Festival, it's "carte blanche" and no taboos!
An insettling subject that provokes debate? Sexuality, racism, harassment on social networks, violence, drugs, death, poverty, advertising, war, populism, for example. The aim is to allow participants to reflect on a subtle and effective way to sensitize the viewer through a short film that is likely to make people think, shake up the spirits and spark dialogue.
DEAD LINE AND METHOD OF SENDING YOUR SHORT FILMS
Short films must be sent before 10/01/2020 00h00 via wetransfer (https://wetransfer.com/) in mp4 or .mov format to: info@ramdamfestival.be
Do not forget to mention your NAME, FIRST NAME and DATE OF BIRTH.
The names of the winners will be announced on the day of the screening among the selection of the best short films on Saturday 25/01/2020 at 11am.
CONDITIONS OF PARTICIPATION?
"Balance ton short" is open to all shorts lasting up to 2 minutes and made using a smartphone or a small pocket camera (e.g.: "Gopro"). The contest has 2 age categories (under 25 at 10/01/2020 and over 25 at 10/01/2020). See regulations below.
THE PRICES ?
A € 250 voucher to the FNAC for the two winners and one year of subscription to Première magazine for the second!
A competition organized in partnership with:
Tournai Ramdam Festival – Imagix Tournai – Notélé – "La Maison de la Culture" of Tournai – The City of Tournai – The Development Council of Wallonia Picarde